Stratux dual-band ADS-B receiver transforms your tablet into the ultimate flight tool with Wide Area Augmentation (WAAS) GPS, subscription-free ADS-B weather and air-to-air traffic. WAAS GPS provides accurate information coordinates within +/- 2.5m. It includes embedded AHRS (With Variable Fan Controller) chip supporting ForeFlight Synthetic Vision and other EFBs. A variable fan chip is now included with the AHRS system. AHRS stands for Attitude and Heading Reference System. This provides true yaw, pitch, and roll information to your favorite EFB.
Introduced more than a decade ago by the FAA, ADS-B (Automatic Dependent Surveillance-Broadcast) provides weather and traffic information to all aircraft equipped with an ADS-B receiver, such as the Stratux, subscription-free.
The Stratux provides the following ADS-B In services:
Flight Information Service-Broadcast (FIS-B) – FIS-B provides regional and continental NEXRAD radar imagery from the National Weather Service, as well as NOTAMs, METARs, TAFs, PIREPs, winds aloft and other valuable in-flight weather services.
FIS-B also includes information on temporary flight restrictions (TFR) and special use airspaces (SUA).
It also receives traffic information on the 978 (ground to air) frequency for local traffic coverage and 1090 (air to air) for the widest possible coverage area, allowing you to receive and display air-to-air traffic, data, and FIS-B weather including animated regional and CONUS NEXRAD, METARs, TAFs, AIR/SIGMETs, PIREPs, winds, and temps aloft, TFRs, NOTAMs, and SUA information .
In The Box
Dual-Band ADS-B SDR's (978 & 1090)
Battery Kit
Suction Mount
EFB Compatability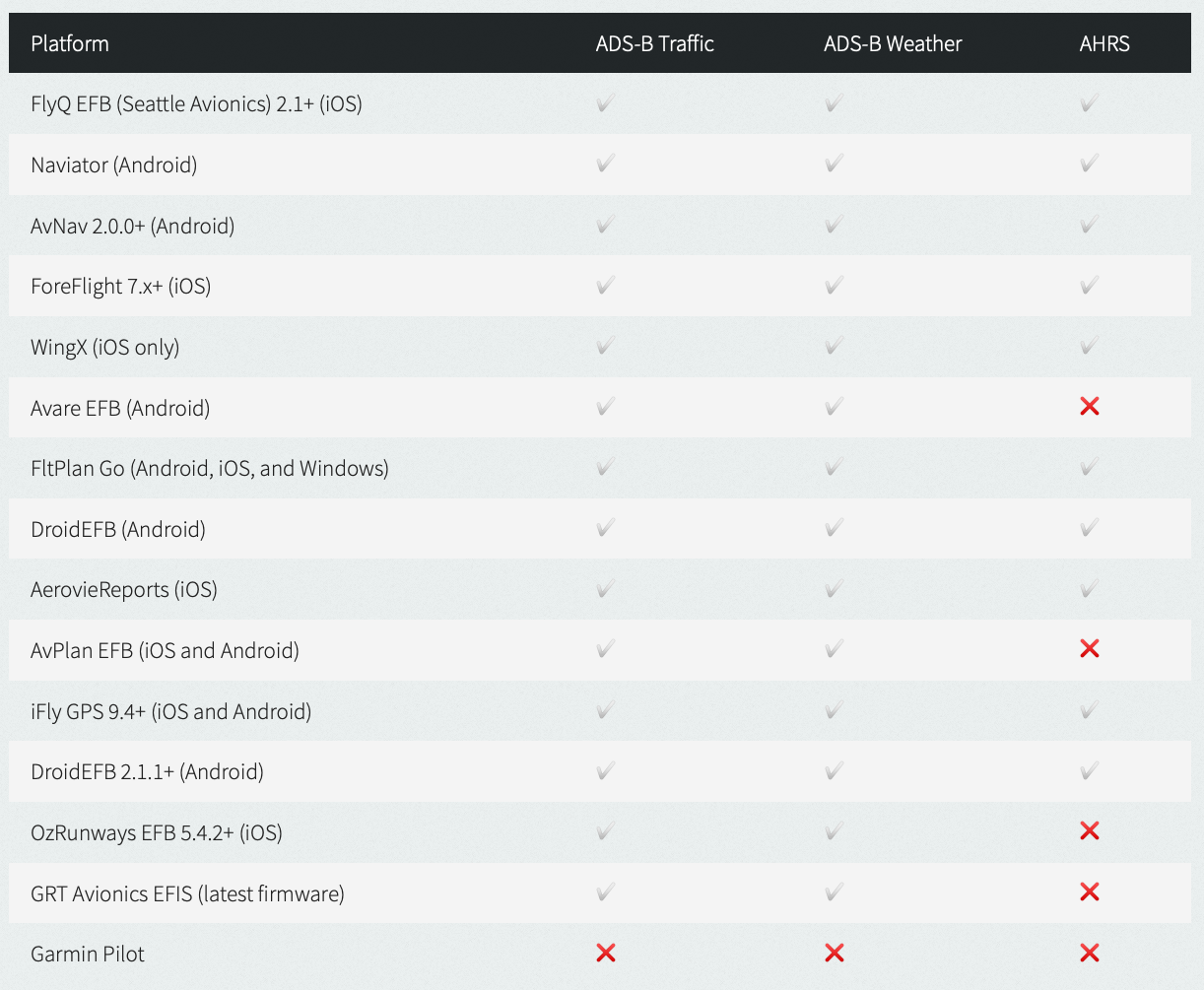 This product comes with a 30 Day Money-back Guarantee
1-Year Technical Support / Replacement Warranty
BSD 3-clause license: //opensource.org/licenses/BSD-3-Clause