ADS-B stands for Automatic Dependent Surveillance – Broadcast:
Automatic because it periodically transmits information with no pilot or operator involvement required.
Dependent because the position and velocity vectors are derived from the Global Positioning System (GPS) or other suitable Navigation Systems (i.e., FMS).
Surveillance because it provides a method of determining 3 dimensional position and identification of aircraft, vehicles, or other assets.
Broadcast because it transmits the information available to anyone with the appropriate receiving equipment.
ADS-B replaces radar technology with satellites, bringing major advantages. Radar relies on radio signals and antennas to determine an aircraft's location. ADS-B uses satellite signals to track aircraft movements.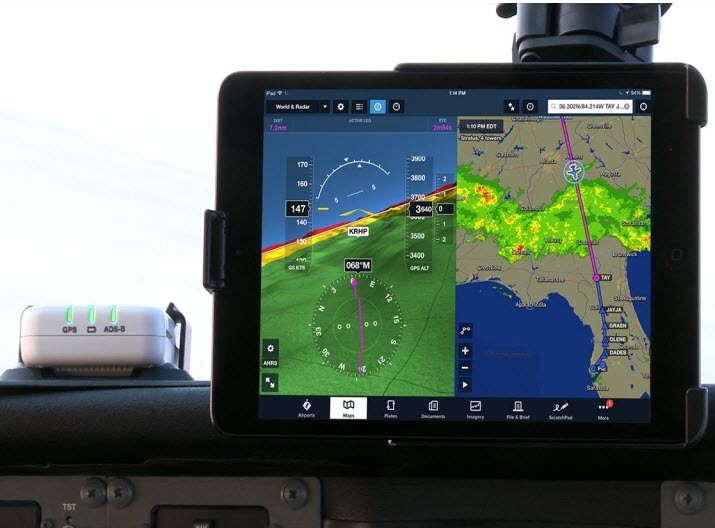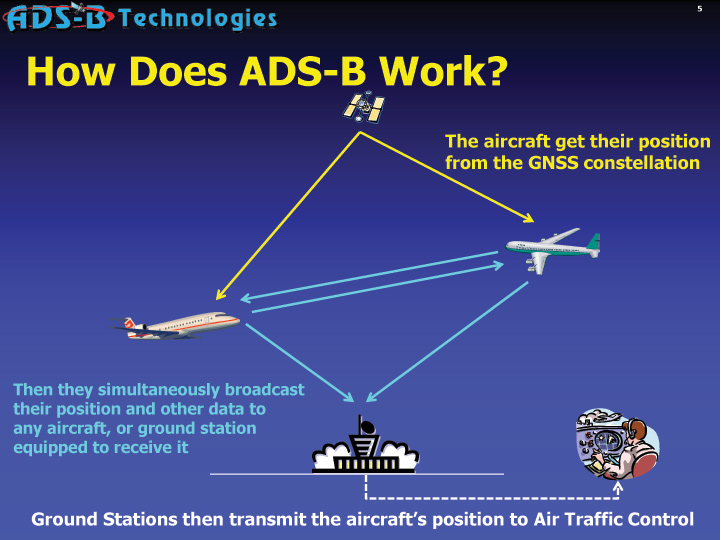 ADS-B Out works by broadcasting information about an aircraft's GPS location, altitude, ground speed and other data to ground stations and other aircraft, once per second. Air traffic controllers and aircraft equipped with ADS-B In can immediately receive this information. This offers more precise tracking of aircraft compared to radar technology, which sweeps for position information every 5 to 12 seconds.
Radio waves are limited to line of site meaning radar signals cannot travel long distances or penetrate mountains and other solid objects. ADS-B ground stations are smaller and more adaptable than radar towers and can be placed in locations not possible with radar. With ground stations in place throughout the country, even in hard to reach areas, ADS-B provides better visibility regardless of the terrain or other obstacles.
Aircraft operating in most controlled U.S. airspace must be equipped with ADS-BOut by January 1, 2020.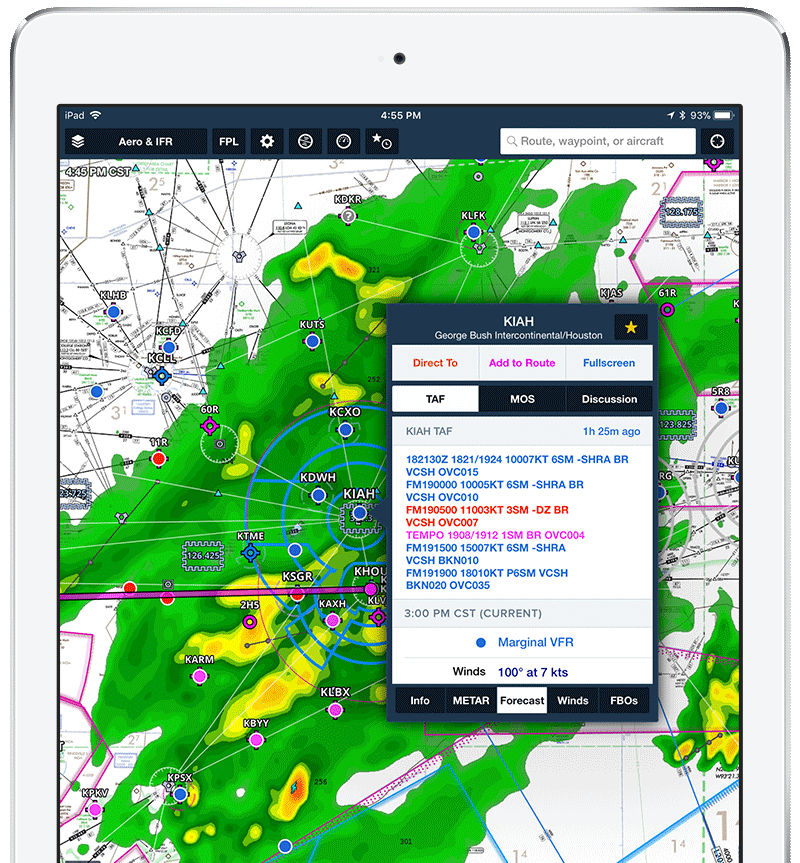 STRATUX connects your iPad with ADS-B towers to provide real time information about your surroundings. Traffic, Weather, and so much more.
---
Flight Information Services – Broadcast (FIS-B)
FIS-B provides the meteorological and aeronautical data to the cockpit. This service is not a client-based service, but rather is always broadcast into the airspace on the UAT frequency. This information is not broadcast on the 1090MHz frequency.
Some of the currently available FIS-B products are:
Airmen's Meteorological Information (AIRMET)
Significant Meteorological Information (SIGMET)
Convective SIGMET
METAR
CONUS NEXRAD
Regional NEXTRAD
NOTAM
PIREP
Special Use Airspace (SUA) Status
Terminal Aerodrome Forecast (TAF)
Winds & Temperatures Aloft
TIS-B Service Status
---
Stratux is an open source ADSB platform that was created by the guys over at stratux.me. This is a dirivative off the commercially available Stratus which is another company that specializes in the creation of ADSB receivers. The issue is, the Stratus costs more than double the price of a Stratux, hence the similar naming scheme. Stratux is a low cost alternative to a Stratus which essentially operates the same way. The Raspberry Pi firmware allows for creators to develop their own Stratux system. There are many tutorials online on how to go about creating your own Stratux however here at Aviator Systems we remove the hassle of DIY work and offer you the finished product.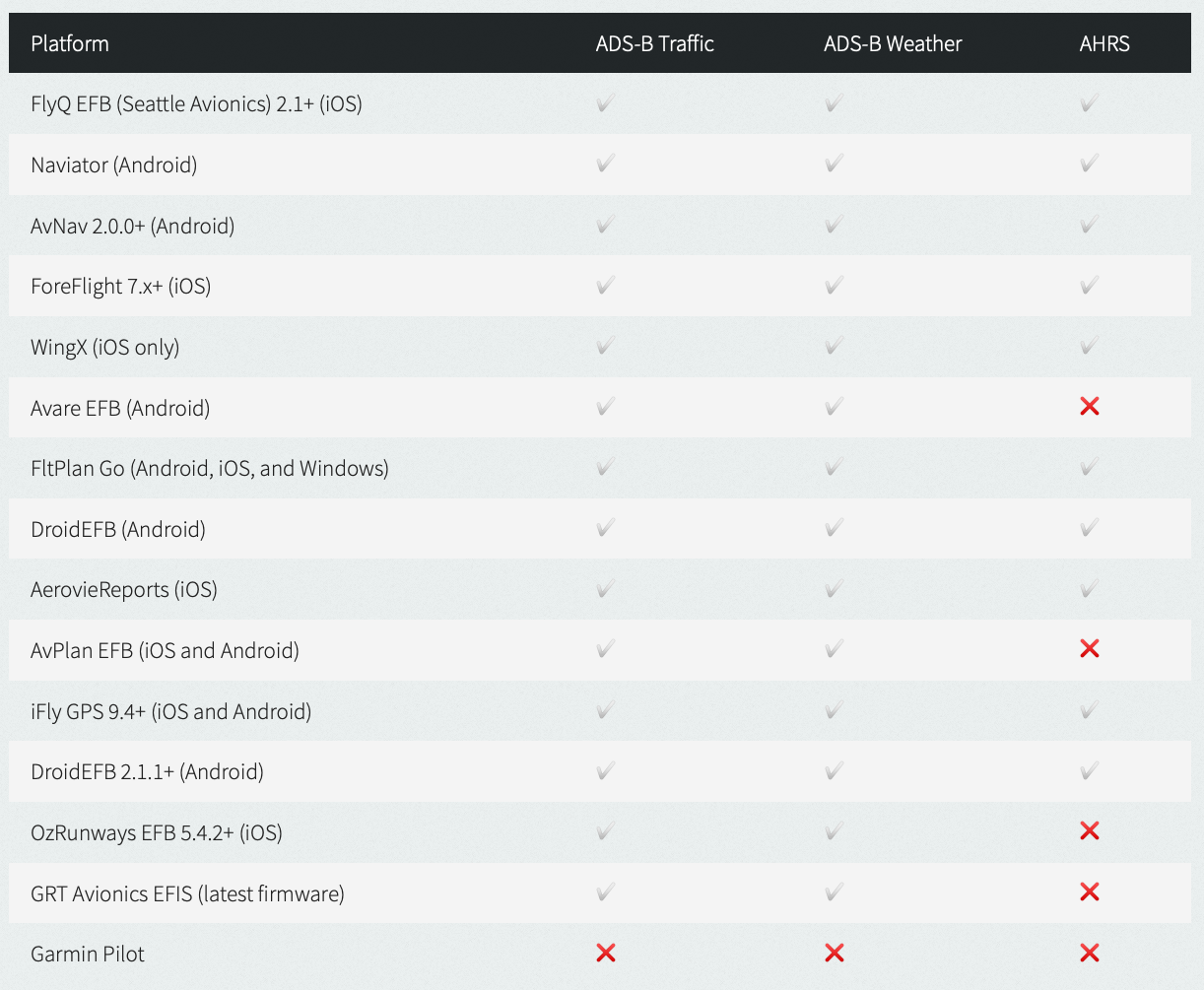 Supports Your Favorite EFB!
Stratux supports FlyQ EFB, Navigator, AvNav, ForeFlight, WingX, Avare EFB, FltPlan Go, DroidEFB, AerovieReports, Avplan EFB, iFly GPS, DroidEFB, OzRunways EFB